Knife tips are colour-coded black on the handles. The rods of the knife tips bend and form a long wedge shape at the end. They have a sharp edge.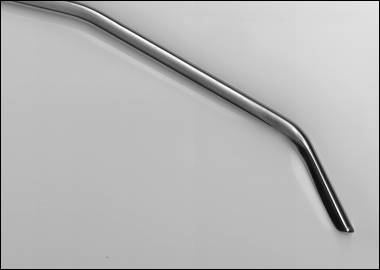 Knife tips are frequently used to fix little, tiny dents called micro lows, because of the point they have at the end of the tip. They are also useful for a special kind of dent called a "pond". One of the best features of the knife tip is the way it tends to "grip" the metal, so once you have it in the right spot, it stays there.
The biggest hazard to be aware of when using a knife tip is that it can crease the metal if you use too much force. Since creases will be just about the worst thing that you have to deal with in paintless dent repair, you must be very careful when you're using a knife tip.